by Leslie - August 7th, 2012.
Filed under:
Uncategorized
. Tagged as:
blocks
,
creativity
,
curriculum
,
dramtic play
,
group time
,
literacy
,
play
.
Each Tuesday I will feature my picks of favorite toys within a specific category. These are it for building and construction toys. This category of toys is great because, on the most basic level, kids love putting things together. When a child builds and constructs, they are building their cognitive skills, logic, creativity, and fine motor skills. Additionally, when they build larger structures they tend to cross the midline, which forces the right and left brain hemispheres to communicate—when a child's dominant hand crosses the midline, her brain is getting the necessary "exercise" to build her fine motor skills.
You'll notice some obvious omissions, such as Legos, Duplos, Lincoln Logs, and Erector Sets. The purpose of this series is to share new toys with each of you, and you don't need me to tell you how awesome these classic toys are!
Dado Cubes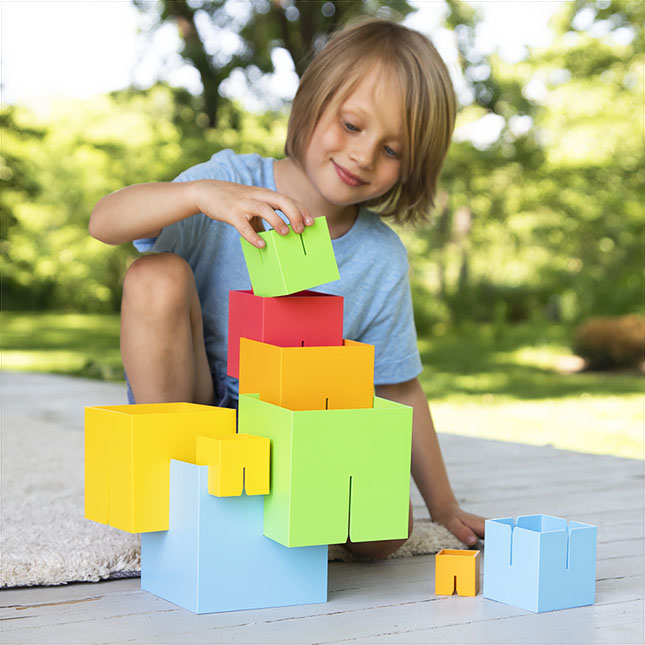 Dado Cubes are a fresh approach to the classic block–not that there is a thing wrong with them! They are large enough for small fingers to manipulate and interesting enough for older children to spend hours creating and building. Not only can they can be built vertically as seen in the picture above, but can also be built into horizontal structures, and nested for younger children.
SmartMax Magnetic Building Set
Simply put, these are SWEET! One block is essentially a wide bar and children can connect them using magnetic balls. This is another great toy to introduce at a young age as the bars and balls are large enough for an older infant to grasp. But don't let that deter you from using this with older children as they are a great toy to learn and grow with into one's older years.
Crazy Forts!
Take the classic couch fort to the next level with Crazy Forts! While Crazy Forts is intended for older children (five-years old and up), I think younger children can definitely reap the benefits and have fun with them, with the assistance of adults. And really, why would you not want play with these?! As you can see in the picture above, the possibilities go much beyond forts. Their only limitation is your child's imagination, which we all know knows no boundaries!
Eco-Friendly Rainbow Soundblocks
Our Toddler Class LOVES these! Sorting, matching, stacking, and listening is just the beginning with Soundblocks. Hold two different colored blocks on top of each other, and then up to a window to begin to explore color mixing. If you're feeling crafty, make your own light box for children to build and stack on. They are also a great way to discuss the concept of rolling with younger children ("Let's see if the green circle rolls. Can you try to roll the yellow rectangle?")
Does your household have a favorite construction toy?